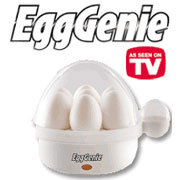 With Egg Genie, the automatic egg boiler, you can get steam cooked perfect eggs in just minutes.
It works great whether you want soft boiled eggs, medium boiled, or hard boiled.
Egg Genie can cook up to seven eggs at one time. You first just fill the Egg Genie with water using a measuring beaker.
Read more about this product >>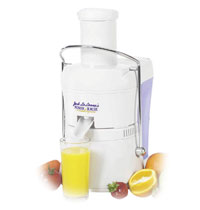 Now the top selling family of power juicers is available in a compact design with Jack Lalanne's Power Juicer Express.
It is a juicer designed for those who have limited space in their kitchen but still want a powerhouse juicer.
With the Power Juicer Express you'll get up to 30% more juice than other juicers and there is no need to precut ingredients.
Read more about this product >>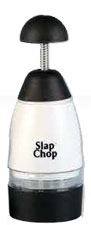 Vince from ShamWow! is back with another great product. With Slap Chop, you can dice, chop, and mince in just seconds.
You never have to switch blades. Every time you press the Slap Chop, the food gets finer. It's that easy.
Use the Slap Chop to chop up vegetables, nuts, and fruits, quickly and easily. Chop up vegetables like carrots, celery and radishes and you can quickly have a salad.
Read more about this product >>
EZ Cracker is the new and easy way to crack and separate eggs. It cracks eggs,  separates egg whites, and strip shells from hard boiled eggs in just seconds.
Now you can enjoy eggs without any mess or hassles. You no longer have to worry about tiny pieces of egg shells getting into your food.
Read more about this product >>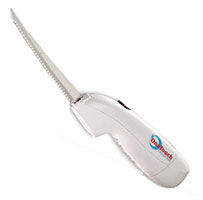 The One Touch Cordless Knife is the amazing electric knife that can over 2,000 blade strokes per minute.
With this portable, cordless and lightweight kitchen tool you can perfectly slice, dice, chop, cut, and fillet in just seconds.
The One Touch Cordless Knife contains dual stainless steel blades and uses a high powered motor to give you clean and precise cuts every time.
Read more about this product >>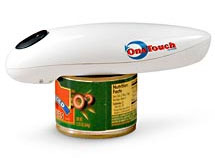 The One Touch Can Opener is the only can opener you will ever need to buy.
Opening a can has never been this easy with the One Touch Can Opener.