Slap Chop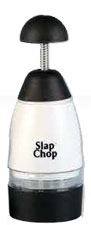 Vince from ShamWow! is back with another great product. With Slap Chop, you can dice, chop, and mince in just seconds.
You never have to switch blades. Every time you press the Slap Chop, the food gets finer. It's that easy.
Use the Slap Chop to chop up vegetables, nuts, and fruits, quickly and easily. Chop up vegetables like carrots, celery and radishes and you can quickly have a salad.
Cut up nuts and add them to your ice cream as a topping. Chop up potatoes for home fries, or add mushrooms and green peppers for a tasty side to your eggs.
The Slap Chop is great for chopping onions and garlic. Your fingers never have to touch them so you don't have to worry about the smell or the onions making you cry.
The Slap Chop is so easy to use. You can do it with just one finger if you like. Best of all, the Slap Chop opens up like butterfly and can be cleaned easily. It is dishwasher safe for no hassle cleaning.
Get the Flash Player to see this player.
You can purchase the Slap Chop for just $19.99 plus the cost of shipping and handling. But that's not all. For every purchase, you also get a free Graty cheese grater. Place any kind of cheese in the container, turn and press the black top twister. The cheese comes right out for omelets, salads, pasta, and more.
Right now there is even a special buy 1 get 1 free offer, which means you can get a second set of the Slap Chop and Graty free. All you have to do is pay the additional shipping cost for the second set.