Xpress Redi-Set-Go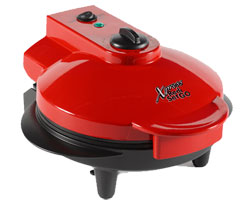 Xpress Redi-Set-Go is the amazing indoor grill that lets you cook, fry, bake, steam, and grill for oven quality results quickly.
With this versatile electric grill, you'll be cooking great meals faster than ever before.
This is because Redi-Set-Go has Dual Cooking Technology that heats food from the top and bottom, cutting cooking time in half.
You can makes great meals in just 7 minutes or less. Plus you are saving energy and dollars by cooking on your counter-top and avoiding the conventional oven.
The Xpress Redi-Set-Go has a floating hinge that allows it to accommodate larger meals with ease. Plus the built in timer tells you exactly when your masterpiece is ready.
Clean up is also a breeze since it has a non-stick surface. The Insertable Food Pans are also dishwasher safe.
Get the Flash Player to see this player.
The Xpress Redi-Set-Go comes with a Divider Pan and a Meals In Minutes Recipe Book. Plus now you'll also receive free bonus gifts that includes a Mini Food Pan, Dual Sided Spatula, and a bonus Recipe Booklet.
This versatile grill normally retails for 3 easy payments of $19.95 but right now it is only 2 easy payments of $19.95. You'll also get a free upgrade to express shipping.