Plaque Attack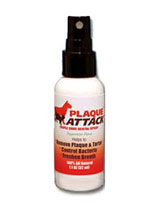 Use Plaque Attack dental spray to spray away plaque, tartar, and bad breath in your pet's mouth.
The all natural formula is veterinarian approved and works for dogs and cats of all sizes.
Plaque Attack is made with human grade ingredients that is designed to safely combine with your pet's saliva to break up bacteria, plaque, and tartar that causes bad breath and gum disease.
Just spray Plaque Attack into your dog or cat's mouth and the all natural formula works quickly and safely mixes with saliva to coat their teeth and gums.
The ingredients will go to work and break up bacteria, plaque, and built-up tartar. It eliminates the causes of bad breath, leaving your pet's mouth healthy and clean.
Get the Flash Player to see this player.
Take advantage of this special double offer and get a 6 month supply bottle of Plaque Attack for just $19.95 plus shipping and handling.
You could also take advantage of a buy 2 get 1 free offer which is currently available. For just $39.90 plus the cost of shipping and handling, you'll get 3 total bottles of Plauqe Attack.