One Touch Cordless Knife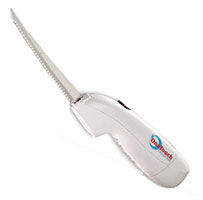 The One Touch Cordless Knife is the amazing electric knife that can over 2,000 blade strokes per minute.
With this portable, cordless and lightweight kitchen tool you can perfectly slice, dice, chop, cut, and fillet in just seconds.
The One Touch Cordless Knife contains dual stainless steel blades and uses a high powered motor to give you clean and precise cuts every time.
It can slice delicate foods with perfect precision, or cut through the toughest meats, fruits and veggies without any pressure needed.
With the One Touch Cordless Knife you'll cut down the time it takes to prepare food. It practically does all the work for you.
Get the Flash Player to see this player.
Other cordless knives can cost up to $100. But right now with this current offer you get the One Touch Cordless Knife for just $14.95 plus the cost of shipping and handling.