Egg Genie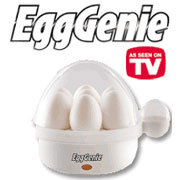 With Egg Genie, the automatic egg boiler, you can get steam cooked perfect eggs in just minutes.
It works great whether you want soft boiled eggs, medium boiled, or hard boiled.
Egg Genie can cook up to seven eggs at one time. You first just fill the Egg Genie with water using a measuring beaker.
Next poke holes in the top of your egg. Then just put the cover on the Egg Genie and let it cook. Within minutes you'll have perfect boiled eggs.
The Egg Genie has a sound and light indicator that lets you know exactly when your eggs are done.
Also Egg Genie is not only great for cooking eggs, but you can also use it to steam vegetables as well. Just use the included steamer tray and use it to get perfectly steamed vegetables in minutes.
Get the Flash Player to see this player.
You can purchase the Egg Genie for $19.99 plus the cost of shipping and handling. But that's not all, in addition you will also get a Bacon Wave plus a Chop Geneie for free. Just pay the additional shipping cost.