Paint Zoom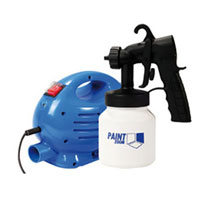 The Paint Zoom Power Sprayer is the ultimate professional painting machine. It is easy to use and will save you time and money.
With the Paint Zoom you can paint like a pro and without having to use rollers, brushes, and the messy paint-trays. It delivers the best coverage quickly and easily.
The power sprayer does most of the hard work so you don't have to. Jobs that take hours with a roller and brush can now be done in a fraction of the time.
The Paint Zoom works all surfaces whether it is indoors or outdoors. Use it on to paint flat walls, stucco, brick, paneling, ceilings, concrete, wood, and so much more. It delivers a professional finish and uses about 50% less paint when compared to painting by hand.
The product is ultra-light and portable, so any one can use it. Plus it is powered by an industrial-strength, commercial grade 650 watt motor and has an advanced spray technology to deliver superior, one-coat coverage.
Get the Flash Player to see this player.
The Paint Zoom system includes the 650 watt power motor, 3-way spray attachment and included a 1 year limited warranty. Plus it you also receive a Perfect Painter Kit with 2 drop cloths and painters tape absolutely free.
You can order the Paint Zoom for 3 easy payments of $33.33 plus shipping and handling. Or just make a single payment of $99.99 plus shipping and handling. It comes with a 30 day money back guarantee.