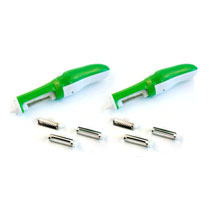 The Sonic Peeler is a powerful electric peeler that makes your kitchen work faster and easier. You can now peel potatoes, other vegetables and fruits without tiring your hands.
It peels at an amazing 4,000 RPM and can get the job done fast. The Sonic Peeler is versatile enough for a variety of kitchen jobs.
Use the Sonic Peeler to peel potatoes, tomatoes, carrots, plus other fruits and veggies. It can also be used to flake Parmesan and other cheeses or shave chocolate to make your favorite desert.
Read more about this product >>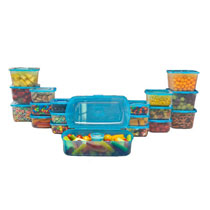 Mr. Lid are the food storage containers that ensures you'll never lose the lid again. That's because it has a patented design where the lid is attached to the container itself.
So now you won't have to dig around trying to find a lid you lost testing different lids until you find the ones that's the correct size for the container. With Mr Lid, the right lid is always there attached to the container.
The special attached lid design can only be found on the Mr. Lid storage containers. It is not available anywhere else on any other food containers.
Read more about this product >>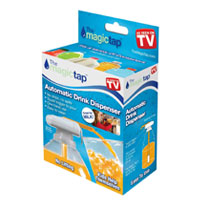 The Magic Tap turns any beverage container into an easy to use automated drink dispenser. So you won't have to worry about spills or drips.
You also won't have to lift heavy bottles to pour your favorite drinks ever again. It is perfect for kids who can have trouble with pouring heavy drink bottles and often end up spilling them.
Parents won't have to worry about messes to clean up and children can pour water, milk, juices, sodas or any other drinks by themselves whenever they want.
Read more about this product >>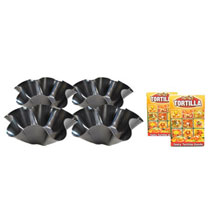 The Perfect Tortilla Pan is a new non-stick tortilla mold that lets you makes perfectly shaped tortilla bowls at home. You can enjoy the same great tortilla bowls that you get at restaurants.
The difference though is that the Perfect Tortilla lets you make healthier tortillas. This is because they are baked and not fried. So you and your family can enjoy a tortilla bowl without the extra oil and fat.
The special design of the Perfect Tortilla molds are non-stick and dishwasher safe. You'll can use them to easily create crispy restaurant style tortilla bowls at home.
Read more about this product >>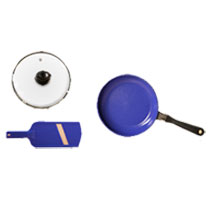 The YoshiBlue is a new diamond skillet that  never sticks and the coating will never chip away. The advanced cooking surface makes it one of the greatest pans ever.
The surface of YoshiBlue is made with nano-ceramic that has been infused with genuine diamond particles. It never sticks, so the surface will always remain looking like new.
The diamond and nano-cermaic surface cooks much better than other non-stick pans, making them obsolete. This futuristic cooking surface makes cooking easier and healthier too.
Read more about this product >>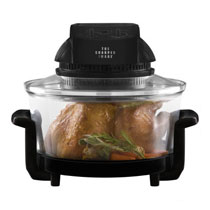 The Sharper Image Super Wave Oven is the amazing piece of cookware that cooks your favorite foods in less time and provides healthier meals.
It does it all, including roasting, baking, broiling, air frying, grilling, boiling and steaming. You'll be able to cook up to 3 times faster than a ordinary  oven, while using as much as 80% less energy.
The Super Wave Oven contains 1300 watts of cooking power and features a special Tri-Cooking Technology that combines halogen, convection and infrared cooking.