Mr. Lid Containers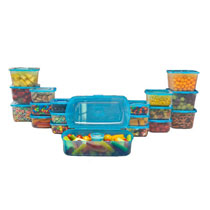 Mr. Lid are the food storage containers that ensures you'll never lose the lid again. That's because it has a patented design where the lid is attached to the container itself.
So now you won't have to dig around trying to find a lid you lost testing different lids until you find the ones that's the correct size for the container. With Mr Lid, the right lid is always there attached to the container.
The special attached lid design can only be found on the Mr. Lid storage containers. It is not available anywhere else on any other food containers.
In addition to the convenient lids, Mr. Lid containers will also keep your food fresher and longer. It is made with a BPA free plastic and when closed it creates an airtight and watertight seal. Use it to pack your lunch and it'll still be fresh when you eat it.
The seal is secure enough that even when you drop a Mr. Lid container with food inside, the lid stays sealed and food won't splatter all over the place. Plus Mr. Lid container are microwave and dishwasher safe.
Aside from storing your foods and leftovers, there are also other great uses for Mr. Lid. You can use it to organized office supplies such as paper clips or thumb tacks. Or store your hardware like nails or bolts.
Get the Flash Player to see this player.
A single Mr. Lid set includes Three 8 oz Containers, Three 16 oz Containers, Three 32 oz Containers, and a bonus 48 oz Deluxe Container. It normally costs $19.99 plus shipping and handling.
Plus with this current offer when purchase one set of Mr. Lid you'll get a second set for free by paying the additional shipping. That's an additional 10 Mr. Lid containers and a total of 20 containers.
Click here to get the Mr. Lid Buy 1 Set Get 1 Set Free Offer