RoboStir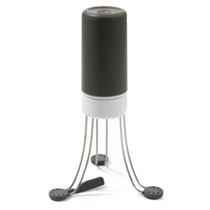 The Automatic RoboStir can help your kitchen work faster and easier. It is a kitchen tool that is designed to automatically help you stir as you cook to save you time.
With the RoboStir, it is like having an extra hand to help you out in the kitchen. It will help stir your foods for you so you don't have to do it yourself.
So now you don't have to stand around and tire your hands by stirring your soups and sauces. You could go and doing something else while the RoboStir does all the stirring for you.
The RoboStir will stir every inch and all the way down to bottom of the pot or pan. This gives you even stirring automatically and at just at the right speed too.
The special silicone legs of the RoboStir is adjustable, so it can throughly stir soups and sauces no matter what the size of pot, pan, or bowl you are using it in.
Plus it is completely waterproof and can be submerged. It can also withstand temperatures as high 572 degrees Fahrenheit and work in hot boiling liquids.
The RoboStir is cordless and battery operated. With a set of 4 fresh AA batteries it can give you up to 4 total hours of stirring time.
Get the Flash Player to see this player.
The retail price of one RoboStir is normally $10 plus the shipping and handling cost. But there is a buy 1 get 1 free promotion which is currently avaialble.
You'll receive an additional RoboStir for free along with a free bonus Scoop and Strain, a ladle with a strainer, with your order. You just have to pay the extra shipping cost for the free bonuses.