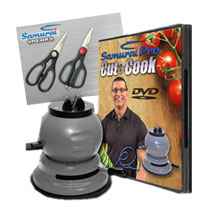 Sharpening your knives have never been easier thanks to the Samurai Pro. It can make your old and dull knives razor sharp again in just seconds.
The Samurai Pro will sharpen your knives so they are like brand new again. You just lock it down and draw the blade across.
Your dull outed knives will be sharpened and ready for use. You can now easily cut vegetables, meats, fruits and more.
Read more about this product >>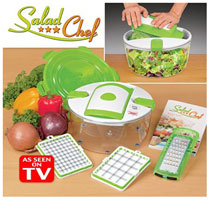 The Salad Chef is the world's most versatile, compact and convenient salad making system. It helps you make incredible salads and more at lighting fast speeds.
You can it to rinse, spin, slice, dice, cube, chop, shred, julienne, serve and store all with just one compact counter-top container.
Anyone can use the Salad Chef to make great salads quickly whether it is regular salads, fruit salads, egg salads, pasta salads or other types of salads.
Read more about this product >>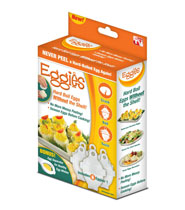 Hard boiled eggs are great and healthy but they can be hard to peel with messy shells. But not anymore with the Eggies System for Hard Boiled Eggs.
Eggies lets you enjoy a perfect hard boiled egg without ever having to peel a single egg shell every again. You can enjoy a nice boiled egg without any with the mess.
The special design of the Eggies lets you cook a hard boiled egg without the shell. You just crack and pour an egg inside and then twist the lid on to close it.
Read more about this product >>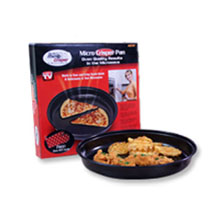 The microwave is quick and convenient but when you use it to reheat fried foods, they become soggy and drab. But not anymore with the Perfect Micro Crisper Pan.
It turns your microwave into a gourmet reheating machine and gives you oven quality results. You can now have the speed of the microwave with the great taste of a convection oven.
The Micro Crisper is made of a microwave-safe metal alloy and is specially engineered to cook, brown, fry, crisp right inside the microwave.
Read more about this product >>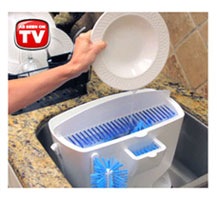 Easy Dish is the new dish washing tool that lets you clean your dishes faster to help you save time and money.
It is not just for dishes either. You can also use Easy Dish to clean your plates, glasses, cups, knifes, forks, spoons and other utensils too.
There's over 10,000 super cleaning bristles that will scrub your dishes and utensils clean. It is big enough for the dirtiest jobs but compact enough to fit in just about any kitchen sink.
Read more about this product >>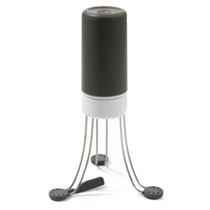 The Automatic RoboStir can help your kitchen work faster and easier. It is a kitchen tool that is designed to automatically help you stir as you cook to save you time.
With the RoboStir, it is like having an extra hand to help you out in the kitchen. It will help stir your foods for you so you don't have to do it yourself.
So now you don't have to stand around and tire your hands by stirring your soups and sauces. You could go and doing something else while the RoboStir does all the stirring for you.