Magic Tap Dispenser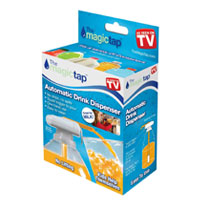 The Magic Tap turns any beverage container into an easy to use automated drink dispenser. So you won't have to worry about spills or drips.
You also won't have to lift heavy bottles to pour your favorite drinks ever again. It is perfect for kids who can have trouble with pouring heavy drink bottles and often end up spilling them.
Parents won't have to worry about messes to clean up and children can pour water, milk, juices, sodas or any other drinks by themselves whenever they want.
With Magic Tap you have a spill-proof automatic drink dispenser that is easy to install and easy to use. It is adjustable and can stretch to fit over almost any type of container, jug, or bottle.
Plus it can be used with hot or cold beverages. The motor is battery powered and draws your drink up through the straw and out of the dispenser.
You just tap your glass or bowl against the Magic Tap and it will automatically start dispensing. Move your glass or bowl away when you have the amount desired and it will automatically stop.
Get the Flash Player to see this player.
A single Magic Tap Drink Dispenser along with a free Magic Tap Kid Friendly Drink Guide normally sells for $19.99 plus shipping. But right now there's a buy 1 get 1 free offer that's available.
You can receive a second set of the Magic Tap Dispenser and Drink Guide for free. Just pay for the extra shipping and handling of the free set.