Sonic Peeler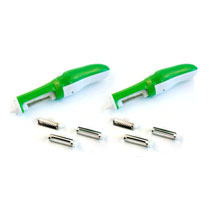 The Sonic Peeler is a powerful electric peeler that makes your kitchen work faster and easier. You can now peel potatoes, other vegetables and fruits without tiring your hands.
It peels at an amazing 4,000 RPM and can get the job done fast. The Sonic Peeler is versatile enough for a variety of kitchen jobs.
Use the Sonic Peeler to peel potatoes, tomatoes, carrots, plus other fruits and veggies. It can also be used to flake Parmesan and other cheeses or shave chocolate to make your favorite desert.
The Sonic Peeler is versatile enough to slice tough skins but is still suitable for delicate jobs like peeling tomatoes. The secret is that it comes with a set of three different interchangeable  blades.
The Heavy Duty Blade is for taking the skin off of tough and fruits and vegetables. Switch to the Light Duty Blade is for make delicate peeling.
Plus there's also the Julienne Blade for making shoestring slices. The Sonic Peeler can help with any peeling job required for practically any fruit or vegetable.
Get the Flash Player to see this player.
A Sonic Peeler with the 3 Interchangeable Blades sells for $14.95 plus the cost of shipping and handling. Currently you can take advantage of a buy 1 get 1 free offer that's available.
This means you'll get an additional Sonic Peeler and the 3 Blades. You just have to pay for the extra shipping and handling of the free set.