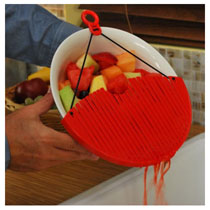 Now there's a better way to strain without having to use those bulky colanders which take up precious storage space. Introducing the Better Strainer, a compact universal strainer.
It is an expandable strainer which fits any size pot, pan, skillet or bowl securely. The secret is the Flex Fit design which lets it grab and lock on tight so you can drain safely.
While the Better Strainer takes up less space than an oven mitt, it does a big job. It is strong enough to strain a pot with 5 lbs of potatoes with ease.
Read more about this product >>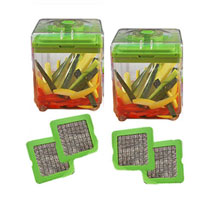 The Chop Magic makes all your kitchen cutting needs a breeze. It can quickly chop, mince, cube, slice and dice in just seconds with little effort.
This amazing chopper saves you a ton of time when compared to cutting the old fashioned way, which is tough and takes forever. Just use the Chop Magic and you can get the job done in just seconds.
This is because the Chop Magic can cut everything in a just single pass. Plus the combination of 12 ultra-sharp stainless steel precision blades also provides uniform results every time.
Read more about this product >>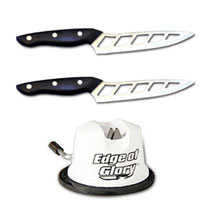 The Aero Knife is new light as air knife that cuts like a razor and food almost never sticks to it. This is because it has an aerodynamic design with holes that reduces the surface area by 60%.
The smaller surface area allows it to be extremely light and makes it much easier to handle. Cutting requires less force, strength and pressure. Your hands won't get tired as fast compared to ordinary heavier chef knives.
Plus these holes also prevents food from sticking onto the knife as well. You can quickly make cut after cut using the Aero Knife, saving you time.
Read more about this product >>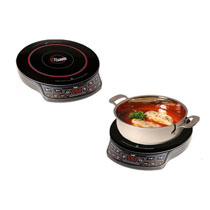 The NuWave PIC is a precision induction cooktop for the same makers that brought you popular the NuWave Oven. The PIC is a portable and versatile cooktop that can prepare meals faster while saving energy.
It is designed to heat a rapidly and can boil water in just 90 seconds. You and your family can enjoy a healthy and delicious home cooked meal even when pressed on time.
You'll be able prepare a variety of meals much faster than before. You can use it for boiling, steaming, simmering, deep frying, stir frying, grilling, barbecuing, sauteing, steaming, and more.
Read more about this product >>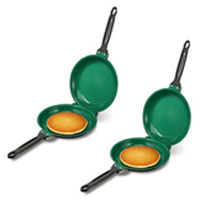 The Flip Jack is an all new pancake flipping pan from Orgreenic Kitchenware. It features the same ceramic non-stick and non-toxic coating as other Ogreenic cookware products.
The special non-stick Orgreenic ceramic coating requires very little to no oils or butter to cook. So this means you can use the Flip Jack to make healthier pancakes, flap jacks, french toast, crepes and more.
In addition the non-stick surface really means nothing ever sticks, including burnt cheese. Once you're done cooking you can easily slide the food right out of the pan and there's no messy cleanups.
Read more about this product >>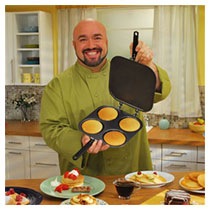 Making pancakes in a frying pan with a spatula can be slow and your pancakes often do come are shaped right. Plus not to mention all the oil and fat you have to use.
Well now there's a better way to make pancakes with the Perfect Pancake Pan. It is a fast and easy to use pancake maker that makes 4 perfect pancakes at the same time.
The pancakes will come out fluffy, golden brown, shaped perfectly, and without any added fats. You get not 1 but 4 perfect pancakes at once, saving you plenty of time when compared to making them in a frying pan.