InStyler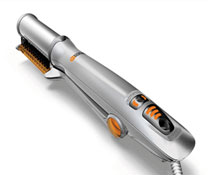 The InStyler is a revolutionary new hair styling and straightening tool that is unlike anything else you've ever tried before.
The secret behind the InStyler is its unique rotating heated polishing cylinder and four rows of precision-aligned bristles. It lets you enjoy shiny, bouncy, and perfect hair in minutes.
With the InStyler's patent-pending design, your hair won't be smashed or baked like it would be with the intense heat of regular flat irons.
The InStyler uses much less heat than traditional hair irons while delivering better results. The gentle heat along with the rotating motion of the polishing cylinder literally polishes your hair strands individually so it doesn't need extreme heat to get amazing results.
When you run the InStyler through your hair, the first set of bristles gently sort and separate your hair strands.
Next, the rotating heated polishing cylinder gently glides over your hair. This smoothly polishes, straightens, and styles each strand of hair.
Last but not least, the second set of bristles puts the finishing touch on your hair, giving you  silky, shiny and smooth hair.
Get the Flash Player to see this player.
The InStyler now comes in 3 different colors. You can choose from the Classic Silver, Sugar Plum, or Pretty and Pink. All three are available in either the original with a 1 1/4″ brush or the new smaller 3/4″ brush.
Currently there's a buy 1 get 1 free promotion for where you can get 2 InStylers for only three easy monthly payments of $39.99 plus shipping and handling.
But there's more because there's even a trial offer that is available. You'll be able to the InStyler for 30 days first, risk free by just pay $14.99 plus the shipping and handling cost.
Plus with each InStyler you'll also get a set of free accessories. It includes an All Purpose Heat Resistant Carry Bag, a 3-in-1 Styling Comb, and the Thermal Shield Training Aids.