Mighty Mendit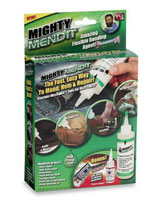 Mighty Mendit is the fast easy way to mend, hem, and wear it again. It can virtually repair any torn fabric permanently. It dries crystal clear and is safe to use on almost all surfaces. Items repaired with Mighty Mendit are machine washable.
Mighty Mendit is not a glue but a flexible bonding agent that grabs, adheres, and interlocks the fibers of virtually any fabric for a permanent repair.
With Mighty Mendit you can need repair any fabric without using needles or sewing. Sewing takes forever but Mighty Mendit gets the job done quick. Use it to repair clothes, pillows, comforters, curtains, furniture, and more.
Whether it's denim, leather, or lace, you can use Mighty Mendit any time and any place. The bond from Mighty Mendit stays strong even after 50 washes in the machine.
Get the Flash Player to see this player.
Right now with this special triple bonus, you can get three bottles of Mighty Mendit for the price of one. That's three bottles of Mighty Mendit for $19.99 plus the cost of shipping and handling.
That's not all though. In addition, you also get a free travel size bottle of Mighty Mendit,  1 free bottle of Mighty Gemit, and a free money saving idea guide on using Mighty Mendit.