Mighty Fix It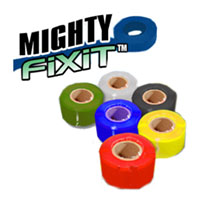 Mighty Fix It is the quick and easy way to seal and repair, saving you time and money. It was created by the same makers that brought you Mighty Mendit.
This isn't just any ordinary tape. Mighty Fix It is a flexible silicon wrap that creates an air tight and water tight seal in just seconds.
It flexes like rubber and holds like steel. This is the same technology that has been used by the military for years.
Mighty FixIt is simple and easy to use. Just stretch it and then wrap it around, it fuses in just seconds. There's no sticky adhesives and it works on wet and dry surfaces.
Use it to repair leaky pipe drains, appliance cords, garden hoses, vacuum hoses, radiator hoses, sprinkler lines, and much more. It is UL listed at 8,000 watts and can withstand high heat.
Get the Flash Player to see this player.
Right now with this special offer you'll get 6 total rolls of Mighty FixIt for just $19.99 plus shipping and handling. It includes these 6 colors: red, blue, yellow, black, green, and clear.