Ultimate Oldies But Goodies Collection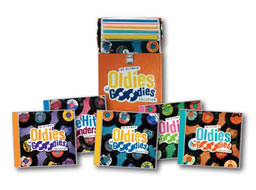 Time Life probably presents presents the Ultimate Oldies But Goodies Collection. It features 158 of the most beloved rock 'n' roll hits from the 50′s on a 10 CD set.
Enjoy great classics to hard-to-find hits. It is the most comprehensive collection of oldies music yet and features all the great songs you love.
Oldies But Goodies features early rock legends like Elvis, Chuck Berry and Little Richard to make this collection an ultimate collection.
Relive the good times when sock-hops, bobby socks, and poodle skirts reigned supreme, and music was as fun and wholesome as those who enjoyed it.
Artists such as Chuck Berry, Elvis, Jackie Wilson, Little Richard, and the Drifters epitomized the music of this era, making music that fans could sing and dance to.
Today, fans of oldies music say it reminds them of simpler times, which is why songs of this genre are often dubbed "oldies but goodies."
Get the Flash Player to see this player.
Order the 10-disc Ultimate Oldies But Goodies Collection now for $149.95 and you'll also receive a free receive 2 bonus CDs that are packed with one hit wonders like the Bell Notes, Thomas Wayne and Jan & Arnie. That is less than $0.99 per song. In addition, you'll also receive free shippping.