Micro Crisper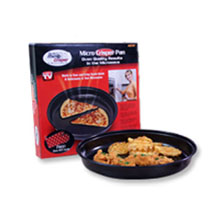 The microwave is quick and convenient but when you use it to reheat fried foods, they become soggy and drab. But not anymore with the Perfect Micro Crisper Pan.
It turns your microwave into a gourmet reheating machine and gives you oven quality results. You can now have the speed of the microwave with the great taste of a convection oven.
The Micro Crisper is made of a microwave-safe metal alloy and is specially engineered to cook, brown, fry, crisp right inside the microwave.
When inside the microwave, the Micro Crisper reaches a very high temperature to sear and crisp your leftovers and turn them back into a tasty meal again.
The Micro Crisper is perfect for pizzas, french fries, fish sticks, cheese sticks, chicken nuggets, mozzarella sticks, quesadillas and a whole lot more.
Plus there's a deluxe upgrade available which includes the Micro Crisper Lid to help cook your foods evenly and eliminate any splatter when inside the microwave.
Get the Flash Player to see this player.
The Micro Crisper sells for $19.99 plus shipping and handling but with this current offer, you'll also receive two free bonus gifts if you pay for the additional shipping cost.
You'll get the Perfect Micro Grill for free. It transforms you microwave to a healthy grilling machine. Fat is drained away while it cooks to give you delicious meals that are healthier.
Plus you'll also recieve the EZ Grip Cool Mitt for free. It is perfect for taking the Micro Crisper out of the microwave or anything hot from your oven.
Get the Perfect Micro Crisper Pan