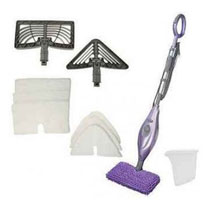 The Shark Professional Steam Pocket Mop is a new steam mop with 3 levels of Intelligent Steam Control. It features 3 different steam cleaning settings for different specific cleaning needs and floor surfaces.
The different modes releases the perfect amount of steam and at ideal temperatures to clean and sanitize your floors. It can kill over 99.99% of bacteria and germs without any use of chemical cleaners.
The Steam Pocket Mop cleans by heating up ordinary tap water and converting it into a deep cleaning and germ-killing steam vapor. So there's no toxic residue left behind on your floors like chemical cleaners and it's better for the enviroment too.
Read more about this product >>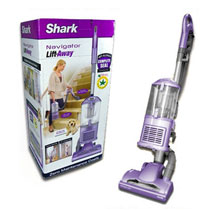 The Shark Navigator Lift-Away is a versatile and power vacuum cleaner that is designed to never lose suction. It provides the performance of much more expensive vacuum cleaners for only a fraction of the cost.
While other vacuums use filters or bags that clog and lose suction over time, the Shark Navigator has a large capacity dust cup and a patented design that  that spins air at high speeds in order to keep dirt and dust away from the filters.
This ensures that the vacuum will not loses suction and cleaning power over time. The filters will stay cleaner for steady suction and airflow even after many uses and heavy duty jobs.
Read more about this product >>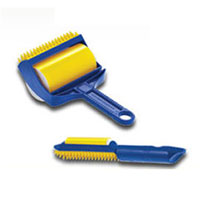 The Sticky Buddy is a new sticky roller that has the power of glue but without the mess. It can easily pick up pet hair, food crumbs, kitty litter, dust, lint and a whole lot more.
Use the Sticky Buddy to clean your clothes, furniture, the upholstery car, or counter tops. It works on all types of fabrics and won't leave any sticky residue, even with silks and suede.
The Sticky Buddy is great for quick clean ups whenever and wherever. You can quickly remove pet hair, dust and lint from your furniture or clothing.
Read more about this product >>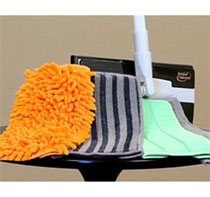 The Keeper Sweeper is a new all-in-one cleaning system that designed to clean almost any surface in your home from the floor to the ceiling. It is designed to handle almost every cleaning job that you need.
You can use the Keeper Sweeper as a sweeper, duster, wet mop, dry mop, glass cleaner, floor scraper, car wash tool, counter top cleaner, hand tool and more.
It features a set of 4 different mop heads which you can quickly change depending on the cleaning job. The mop head pads are reusable, washable and also reversible, allowing you to save money from having to buy disposable pads.
Read more about this product >>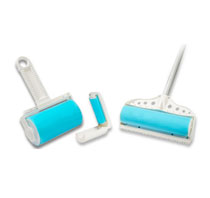 Do you remember Vince Offer with his ShamWow and Slap Chop? Will not he's back again with the Schticky, a reusabale lint roller.
With the Schticky you'll never have to buy a new disposable lint rollers again. You can save as much as hundreds of dollars a year.
You can get rid of lint, hair, pet hair, dust, or dandruff  on your clothes with just one swipe. It works on all types of fabrics, from wool to velvet.
Read more about this product >>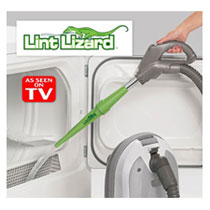 Having lint built up in your dryer over time can cause it to take longer to run and make your clothes come out damp. Your dryer will have to use more energy, raising your electric bill.
With the Lint Lizard you can easily clear away and remove dryer lint from hard to reach places. By removing the clogged lint  in your dryer, you can speed up your drying time by as much as 15 minutes and lower your energy bill.
The Lint Lizard works by attaching to the hose of any vacuum cleaner. It is 44 inches long, flexible, and specially designed to let you  easily remove the packed lint that is stuck inside your dryer.