Sticky Buddy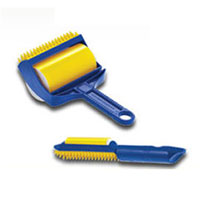 The Sticky Buddy is a new sticky roller that has the power of glue but without the mess. It can easily pick up pet hair, food crumbs, kitty litter, dust, lint and a whole lot more.
Use the Sticky Buddy to clean your clothes, furniture, the upholstery car, or counter tops. It works on all types of fabrics and won't leave any sticky residue, even with silks and suede.
The Sticky Buddy is great for quick clean ups whenever and wherever. You can quickly remove pet hair, dust and lint from your furniture or clothing.
Best of it all it can be used over and over again. You just rinse it in a little soapy water and then dry it on a towel or let it air dry. The Sticky Buddy will become sticky all over again. It is a sticky roller that you can use for life.
Plus the Sticky Buddy also features rubber fingers that help cleans carpets. Just use short strokes to loosen hair and dust trapped deep inside and flip it over to pick them right up.
You can also use the Sticky Buddy as a pet brush. Just gently roll it over your dog or cat and it capture shedding hair and prevent for getting all over your home in the future.
Get the Flash Player to see this player.
The Sticky Buddy includes the handheld Sticky Buddy with a Cover and also a bonus smaller detail size Sticky Buddy that you can take with you wherever you go. A single set would normally sell for $1o plus the cost of shipping and handling.
But right now you can take advantage of a buy 1 get 1 free offer and get a second normal sized Sticky Buddy and compact Sticky Buddy for free. You just have to pay the additional shipping for the second free set.