Schticky Lint Roller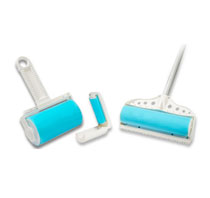 Do you remember Vince Offer with his ShamWow and Slap Chop? Will not he's back again with the Schticky, a reusabale lint roller.
With the Schticky you'll never have to buy a new disposable lint rollers again. You can save as much as hundreds of dollars a year.
You can get rid of lint, hair, pet hair, dust, or dandruff  on your clothes with just one swipe. It works on all types of fabrics, from wool to velvet.
Plus the Schticky isn't just for clothes either. You can also use it to clean your entire home easily and quickly.
Use it to pick up pet hair from your sofa and other areas, clean your curtains, pick up food crumbs, clean up the upholstery in the car, get rid of cobwebs, and more.
You can do multiple surfaces without having to  go from a vacuum to a broom. The Schticky can even pick up loss hair stuck in the carpet that your vacuum cleaner can't get.
After using the Schticky, you can just run it under a sink to get rid of all the dust, lint and hair. It is made with a special silicone that is sticky when dry but slippery when wet. So under water all the dust falls off and you can dry it to reuse it again.
Get the Flash Player to see this player.
For $19.99 plus shipping and handling you'll get the standard sized Schticky and the Little Schticky. The normal Schticky is great for both cleaning your clothes and your home. You can easily fit the Little Schticky inside a pocket and purse to get rid of lint or dandruff on your clothes while on the go.
Plus as a special bonus, you'll also get the Big Scticky for free with your order if you pay for the extra shipping and handling cost. It has an extra long handle that lets you clean cobwebs, curtains and other hard to reach places.