Keeper Sweeper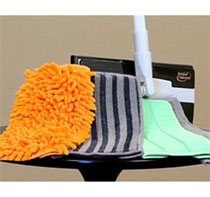 The Keeper Sweeper is a new all-in-one cleaning system that designed to clean almost any surface in your home from the floor to the ceiling. It is designed to handle almost every cleaning job that you need.
You can use the Keeper Sweeper as a sweeper, duster, wet mop, dry mop, glass cleaner, floor scraper, car wash tool, counter top cleaner, hand tool and more.
It features a set of 4 different mop heads which you can quickly change depending on the cleaning job. The mop head pads are reusable, washable and also reversible, allowing you to save money from having to buy disposable pads.
The Chenille Duster Pad mop head will gently lift away dust particles from sensitive electronics. You also use it with the extending telescoping handle to clean hard to reach ceiling fans or you curtains.
The Glass Pad head is scratch-free and lets you leave all your mirrors and windows spotless. You can clean with just some warm water or use a cleaning solution for tougher window and glass stains.
You also have the Scrubber Mop Pad for floors. It helps pad erases scuff marks and other hard to get rid of dirt and messes from your flooring.
The last mop head is the Terry Floor Mop Pad, which works great on hardwood, tile and linoleum floors. It'll leave your floors spotless and clean.
Get the Flash Player to see this player.
The Keeper Sweeper system includes the Mop Frame, Telescoping Handle and the 4 Reusable Mop Heads. It sells for $19.95 plus shipping and handling. Plus as a bonus it also comes with 2 free Microfiber Polishing Towels and 2 free Microfiber Glass Towels.
But there's more. You'll also get an additional second set of the 4 Reusable Mop Heads for free with your order. You just have to pay for the extra shipping and handling cost for it.