Iron Anywhere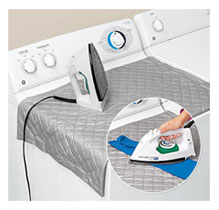 Now you don't need to have an ironing board around to do your ironing thanks to the Iron Anywhere. It is a magnetic ironing mat that instantly turns any surface into an ironing board.
The convenient nonslip grip strip lets you use Iron Anywhere on wherever you choose. You no longer have to take that bulky and heavy ironing out.
Iron Anywhere is lightweight, compact, portable and folds for easy storage. When you need to iron just spread it out and your ready to go.
The quilted thermal surface of the Iron Anywhere is heat resistant and will protect whatever surface you use it on. Use it on the any countertop whether it is made of wood, marble, granite or Formica.
Plus the Iron Anywhere is safe to use on the carpet without any worries. You can even use it to iron on your bed if you want.
Get the Flash Player to see this player.
A single Iron Anywhere is normally $10 plus shipping and handling but right now with this buy 1 get 1 free offer, you'll receive an additional Iron Anywhere for free. You just have to pay the additional shipping.
Plus as a bonus, you'll also receive a free set of two Dryer Balls. It helps makes your clothes softer and fluffier without having to use chemical fabric softeners.
Update: This offer has expired