Tobi Platinum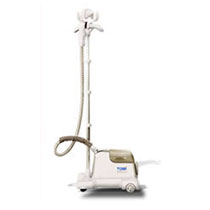 The original Tobi Steamer has been redesigned and improved with the new Tobi Platinum. It has new features that makes it one of the best portable wrinkle removing machine.
The Tobi Platinum will wipe out wrinkles from clothing just like the professional machines used in dry cleaners and the fashion industry.
You can use it to safely get rid of wrinkles on all types of fabrics. It gets the job much quicker than ironing and you don't have to worry about damaging your clothes.
In addition to removing wrinkles, the Tobi will also get rid of  unpleasant odors from your clothing. You can also use the Tobi to eliminate odors from your furniture, linens, beds, pillows and more.
The steam delivered from the Tobi Platinum is 40% more power than the original and penetrates right through fabric to release wrinkles and removes odors. Your clothes will be wrinkle free and fresh.
Some of the other  new features of the Tobi Platinum includes an improved clothes hanger,  a shoulder strap for carrying, and a new hose that is more lightweight, flexible and softer.
Plus there is now a larger water tank to give you more continuous steam. When filled up, it can provide half hour of steam and when it runs out, you simply fill it again.
Get the Flash Player to see this player.
You can order the Tobi Platinum for just 3 easy payments of $33.33 plus shipping and handling. Or you could just make a single payment of $99.99 plus shipping.
With your order you'll also receive two free attachments for your Tobi. It is the Lint / Pet Hair attachment and the Upholstery attachment.