Total Pillow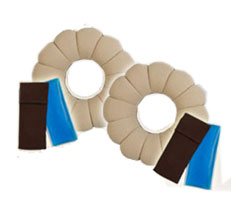 The Total Pillow is the amazing versatile pillow that cradles you in comfort. It provides you with the ultimate support.
This amazing versatile pillow changes shape in seconds in order to align properly with your head and spine.
It helps reduce the occurrence of neck aches and back pain when you wake up. The Total Pillow stays warm and cuddly and keeps its shape all night.
Plus having the Total Pillow is like having 5 pillows in 1. It can help support your neck, ankles, knees, back or anywhere you need total comfort.
Use Total Pillow while you are watching TV, playing video games, working on the computer, in the car, on the plane and more.
Get the Flash Player to see this player.
Each Total Pillow also comes with a Total Compress Pack.  You can microwave it for a hot compress or freeze it for a cold compress. The soft fleece cover fits perfectly inside the Total Pillow to give you additional comfort.
Normally a Total Pillow with the Total Compress Pack is $19.99 plus shipping and handling but with this buy 1 get 1 free offer you receive a second Total Pillow and a second Total Compress Pack free. You just have to pay the additional shipping.