Mister Steamy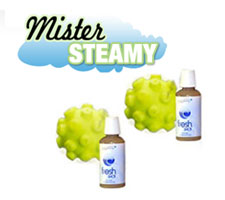 Mister Steamy is the amazing new dryer ball with the power of steam. Now you can get soft and wrinkle free clothes without an iron or dryer sheets.
With Mister Steamy your dryer will become a wrinkle releasing machine. Whether it is cottons, polys, or blends, it is the fastest way to get rid of wrinkles without ironing.
Dress shirts will coming out looking neat and professional while pants look new and pressed. Plus Mister Steamy also softens your clothes as they dry for fluffer fabrics.
Using Mister Steamy is simple and easy. First you just add water to the Mister Steamy and then toss it in the dryer with your clothes. As the dryer heats up, steam is released.
Get the Flash Player to see this player.
Normally the Mister Steamy Dryer Ball along with a bottle of Fresh Shot costs $19.99 plus shipping and handling. But right now there is a special buy 1 get 1 free offer.
That means you'll get 2 Mister Steamy Dryer Balls and 2 bottles of Fresh Shot for the same price. Just pay the additional shipping cost on the second set.