Wonder File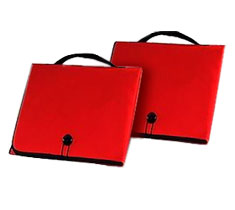 The Wonder File is the ingenious organizer that can turn any space into a neatly, organized workplace. 
Having too many papers and files to keep track off can be stressful and a mess but with the Wonder File you can easily organize them all.
It has centers pockets, corner pockets, zipper pockets, a smooth writing surface, it fits a laptop, and is easy to store.
The Wonder File is great for executives or business owners who do a lot of work at home, students and teaches to keep their papers organized, and a must have for moms who are always on the go.
Plus it also perfect for hobbyists, crafters  and collectors of all kind. You can use the Wonder File to store greeting cards and gift wrap in one place, plan parties and special events, or keep all your coupons organized.
Get the Flash Player to see this player.
The Wonder File comes in Red, Black, and Plaid. Normally a Wonder File with a free bonus Clamp Light is $19.99 plus shipping and handling. But with this buy 1 get 1 free offer, you'll get a second set for free, you just have to pay the extra shipping.
This means you'll get 2 Wonder Files and 2 free bonus Clamps Lights for just $19.99 plus the cost shipping and handling. This offer is not available in stores.