APY60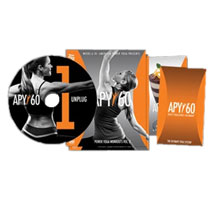 APY60 from American Power Yoga is the ultimate yoga system that helps you lose weight, gain strength, transform your body, and find inner peace.
This total body yoga workout is designed to help you get the body you want in just 60 days. It is different from other fitness and weight loss programs because it provides a complete system that is designed to change your entire body.
APY60 not only helps you lose weight but also helps you gain strength, teaches you to eat right, and also provides life coaching and conditioning to help you find inner peace.
The APY60 system was created by Kurt Johnsen, who is a world renowned yoga instructor, fitness instructor, and martial arts master. He founded American Power Yoga and is yoga instructor to many stars and professional athletes.
Kurt has also trained hundreds of other yoga teachers throughout his 20 year career. Plus he has appeared on talk shows, webcasts and radio shows for his yoga expertise.
Taking all the knowledge has learned over his 20 year career, Kurt created the APY60 ultimate yoga system so people everywhere too can change their bodies and their life.
Get the Flash Player to see this player.
The APY60 system comes with the 60 Daily Blends Guide, 10 American Power Yoga Classes DVDs, a Step By Step Workbook, a Nutrition Guide, and Kurt's Kitchen DVD. It sells for 3 payments of $39.95 plus shipping and handling.
Plus right now you'll also receive additional free bonuses with your order. It includes a Pocket Calculator with Tips, a Habit Builder Kit and the Endurance Class Workout DVD.