Shake Weight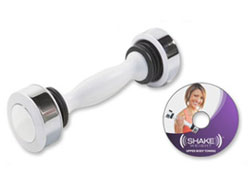 Get strong, sexy, scuplted arms and shoulders with the Shake Weight. It is a revolutionary new way to shape and tone your arms, and is designed specifically for women.
The Shake Weight uses a completely new workout technology called Dynamic Inertia. This new technique provides a more effective workout in less time.
A scientific study proves that the Shake Weight increases upper body muscle activity by more than 300% when compared to traditional weights.
You can now work out the entire upper body of  in just 6 minutes a day with the Shake Weight. It tighten and tone your arms, should, and chest.
Unlike heavy exercise machines that are designed to give you a muscular build, Shake Weight makes your arms have that slim and sexy look.
Get the Flash Player to see this player.
Order the Shake Weight now for just $19.95 plus shipping and handling. You'll also receive a free Bonus Upper Body Toning Workout DVD. This offer is not available in stores.