Body Gospel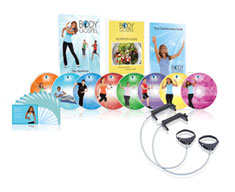 Have faith in your weight loss results with Body Gospel. It combines both the power of your faith along with your desire to lose weight in order to help you get fit.
Body Gospel is a first program of its kind that includes workouts set to inspirational gospel music.
Combined with the included breakthrough new resistance bands and a complete nutrition plan, you can get into shape fast.
The glorious music is guaranteed to get you moving and every workout is a "party with a purpose". The you results you get might amaze you.
The Body Gospel system was created by inspirational fitness expert, Donna Richardson Joyner. She has been named on the Oprah Winfrey Show as one of the top 5 fitness video instructors. Plus she also holds the current Guinness World Record for leading the world's largest line dance, with over 50,000 people.
With her expert workouts, the glorious in the program and combined with your faith, you can transform your body and get into shape.
The products included in Body Gospel Workout are:
Body Revival DVD
Core Revelation DVD
Stretch in the Spirit DVD
Power & Praise DVD
Gospel Glory DVD
Strength & Spirit DVD
Total Transformation Guide
Feed Your Body, Feed Your Soul Nutrition Guide
Body Gospel Training Cards
Body Gospel Bands
Get the Flash Player to see this player.
You can order the Body Gospel system for easy 2 payments of $39.95 plus the cost of shipping and handling. It includes a free upgrade to express delivery and comes with a 30 day money back guarantee.
Plus as a special bonus, you'll also get 3 free gifts with your order. It includes the Stepping in the Spirit DVD,  3-Day Jump-Start Plan, and the  Body Gospel Live DVD.