Collegiate Snuggie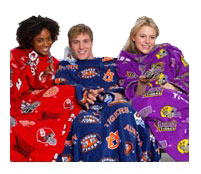 Now you can stay warm and show your school pride at the same time with the new Collegiate Snuggie.
Blankets are okay but they can slip and slide, plus your hands are trapped inside.
With the Collegiate Snuggie Blanket you are totally warm and still have the freedom to use your hands.
You can work the remote, use your laptop or do some reading in total warmth and comfort. They are great for a chilly college dorm.
Collegiate Snuggies are available for over 50 college teams. Order for your school group or friends. They are perfect for both men and women. Plus they make an excellent gift for any college fan.
Get the Flash Player to see this player.
Show your team spirit today and order a Collegiate Snuggie for just $19.99 plus shipping and handling. If you order more than 1, you can get a discount and save up to 15%.