Snuggie for Kids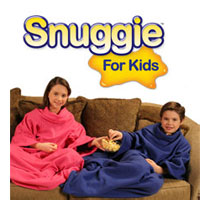 Everyone loves the original Snuggie, the blanket with sleeves. Now you can keep the whole family warm with the new Snuggie for Kids.
It is a smaller size Snuggie with smaller arms so that kids can stay warm while enjoying the things they want to do.
Snuggie for Kids is made with super soft, thick, luxurious fleece with roomy, oversized sleeves that let kids do what they want while still being totally wrapped in warmth.
It  is perfect for watching TV, playing video games, or staying warm while studying. The super-soft and luxurious Snuggie for Kids is available in Royal Blue and Pretty Pink.
Get the Flash Player to see this player.
Right now with this special buy one get one free offer, you can get two Snuggie for Kids for just $19.99 plus shipping and handling. But that's not all.
With each Snuggie for Kids you also get a free pair of matching slipper socks. So you get 2 Snuggie for Kids and 2 pairs of matching slipper socks for only $19.99 plus the cost of shipping.