Snuggie New Colors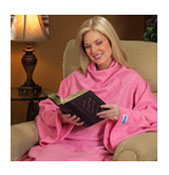 Now the Snuggie, the amazing blanket with sleeves, is available in three great new colors.
The three hot new Snuggie colors includes Soft Rose, Royal Blue, and Forest Green. These fantastic colors along with the super soft fleece makes the Snuggie perfect for anyone.
The Snuggie blanket will help keep you totally warm while giving you the freedom to use your hands.
You can work the remote, use your laptop or do some reading in total warmth and comfort.
With the Snuggie you'll be warm and cozy all winter long. At the same time it'll help lower your heating bill and save energy.
The large design of the Snuggie makes it one-size fits all. Plus it is machine washable for easy cleaning.
Get the Flash Player to see this player.
These new color Snuggies retails for $19.95 plus shipping and handling but right now with this special buy 1 get 1 free offer, you receive a second Snuggie free.
Plus each Snuggie also comes with a free bonus book light. It clips to your book and illuminates pages, perfect for reading while wearing your Snuggie.
That's 2 new color Snuggies and 2 clip-on book lights for just $19.95 plus the cost of shipping and handling.