Designer Snuggie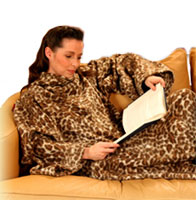 Everywhere you go you've been hearing about the Snuggie. Many people have been asking for a more stylish Snuggie and now you have it with the new Snuggie Designer series.
The new Designer Snuggie is available in three new amazing styles. The Leopard looks as good as it feels, perfect for keeping you cozy and warm during chilly nights.
There's the cute and cuddly Zebra print, to keep you warm and toasty with extra roomy sleeves. There's also the deep rich Camel Snuggie to keep you perfectly warm and in style.
Blankets are okay but the Snuggie keeps you totally warm and gives you the freedom to use your hands. You can work the remote, use your laptop, or do some reading while enjoying total warmth and comfort.
Get the Flash Player to see this player.
When you purchase a Designer Snuggie it comes with a free portable book light. But that's not all because with right now there is a special buy 1 get 1 free offer.
You'll get another pair of Snuggie and book light for free, just pay the additional shipping. That's 2 Snuggies and 2 book lights for just $19.99 plus the cost of shipping and handling.