Hot Booties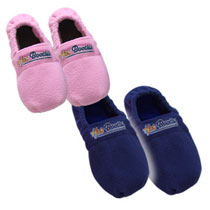 The Hot Booties are new microwavable slippers that gives you a long-lasting heat treatment for your feet. It is a new revolution in pure comfort and foot therapy.
Hot Booties are much more than just an ordinary pair of slippers. They are perfect during cold winter months and for cold, achy, stressed and tired feet.
Plus unlike standard slippers, the Hot Booties will actually improve circulation by naturally massaging your feet while you walk and helps improve blood circulation.
A microwavable Bootie Bag is included to help ensure that your microwave stays clean and sanitary. You just place a pair of Hot Booties inside the Bootie Bag, microwave it for 60 seconds, and you'll have up to an hour of radiating warmth.
The secret is in the soles which are filled with natural linseed. They naturally store and retain heat so you get a consistent and therapeutic warmth while you walk around in the Hot Booties.
Not only does the Hot Booties help treat stress and tired feet but there it also has a Lavender aromatherapy. It'll soothe your feet and help keep them smelling fresh all day long.
Get the Flash Player to see this player.
The Hot Booties slippers comes in Pink for women and Blue for men, with different sizes available. A single pair with the Bootie Bag normally costs $14.99 plus shipping and handling each but currently there's a buy 1 get 1 free offer.
You'll receive a second pair of Hot Booties slippers and a second Bootie Bag for free. You just have to pay the additional shipping and handling for the second free set.