PedEgg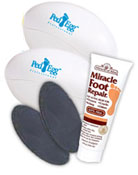 The PedEgg is the revolutionary foot file you've seen nationally advertised on television. You no longer need expensive pedicures to have smooth and callous free feet. The Pedegg is the ultimate way to enjoy beautiful and smooth feet.
The precision stainless steel micro-files in PedEgg are made safely and effectively remove rough and dry skin. At the same time it is gentle and easy to use.
Best of all, PedEgg is self contained and there is no mess from using it. The skin shavings are stored in a convenient storage compartment which can easily be emptied.
Get the Flash Player to see this player.
Right with this special offer where you can buy  one Ped Egg and get another for free. That's two Ped Egg's for only $10 plus the cost of shipping.
That's not all. In addition, you also get 2 polishing pads and a Miracle Foot Cream for free with the offer.