WalkFit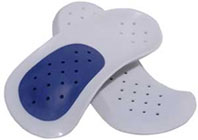 Relieve your foot pain today with WalkFit Orthotics. WalkFit insoles will improve your comfort when standing, walking or running.
WalkFit helps aligns your body for balance and relief of back pain. It realigns your spine and pelvic area to reduce knee, hip and lower back pain. By using WalkFit, it adjusts the position of foot to relieve foot pain and provide stability and balance.
Over 1.4 million customers have found that WalkFit orthotics helped reduce their foot pain. They have significantly reduced their foot and back pain. WalkFit has allowed them to continue to exercise and continue enjoy playing the sports them love.
WalkFit orthotics are designed by doctors to support the ligaments, tendons, bones and muscles in your feet, thereby a reducing foot pain.
Get the Flash Player to see this player.
Right now you can get a WalkFit Bonus Kit for only $19.95 plus the cost of shipping handling. This bonus kits includes a pair of WalkFit, 3 Customizable Arch Inserts, a Sandal adaptor, a Peppermint Lotion, a How to Guide, and a free Joint Support Formula.