Royal Pedi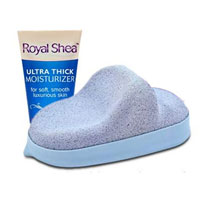 The Royal Pedi is a safe and easy solution for removing dead skin and prevent calluses from building up on your feet. It is an anti-fungal and hands-free exfoliating stone.
You can use it to get the smooth and sexy feet that you've always wanted. There's no more slipping, sliding, bending over and no mess involved.
All you have to do is just peel the restickable sleeve on the bottom of the sleeve and stick the Royal Pedi on any shower surface. Then you can exfoliate away dead skin and calluses in just seconds.
The exclusive TotalGrip technology secures the Royal Pedi on any shower surface and ensures that it stays secure while you exfoliate.  It is durable and easy to use.
Royal Pedi is hand-made in the USA. It has a patented special ingredient mixture which makes it lightweight, durable and long-lasting stone. The unique shape lets you easily exfoliate every part of your feet
Plus the Royal Pedi also features the exclusive AeroMix technology. It helps the stone resist mold, mildew and fungus from growing.
Get the Flash Player to see this player.
The Royal Pedi is available in 4 different colors with Blue, Almond, Black and Pink. Each one sells for $19.99 plus shipping and handling.
Plus you can take advantage of a Buy1 Get 1 Free offer and get a second Royal Pedi as well as a Royal Shea Ultra Thick Foot Moisturizer for. You just have to pay the additional shipping and handling cost for it.