Easy Feet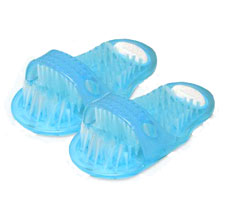 Clean and massage your feet for heel to toe with Easy Feet. You no longer have to bend over and stretch in order to clean your feet.
The Easy Feet features over 1,000 bristles that clean your feet from top to bottom. At the same it massages your feet, exfoilates it, and eliminates dirt that may be trapped.
Plus there is even a pumice stone at the end in order to smooth out rough, cracked heels and makes them softer.
The Easy Feet are one size fits all and have no slip cups that allow them to secure to any smooth shower or tub surface. These built in suction pads will hold them in place while you clean your feet.
Easy Feet is great for people of all ages. Both adults and kids can benefit from having cleaner, healthier and more beautiful looking feet.
Get the Flash Player to see this player.
Normally a single Easy Feet costs $14.99 plus shipping and handling but right now there is a buy 1 get 1 free offer that is available. You well receive a second Easy Feet for free. All you have to is pay the additional shipping for it.