Pedi Spin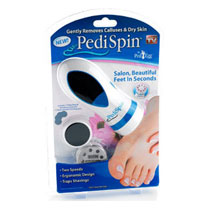 The Pedi Spin is a new callus remover from the same makers that brought you the PedEgg. It features an automatic rotating buffing head that removes rough dry patches, calluses and dead skin quickly.
You can get rid of painful and unsightly calluses easily in just minutes. The Pedi Spin is an ultimate foot smoothing miracle that gives you soft and smooth foot anytime.
It is battery powered (4 AA batteries) and has stainless micro files that will quickly remove calluses and dry skin. Your feet will look and feel great after using the Pedi Spin.
The Pedi Spin is both safe and gentle, even for those with delicate skin.  In fact it is so gentle that you can run it over a balloon and it won't break. You can use it on your heels, soles, or even your toes.
There's two precision speeds settings on the Pedi Spin. You use the low speed setting for rough dry skin patches. For those tough calluses you use the high speed settings.
The PediSpin comes with a buffering pad and finishing pads. You first use the buffering pad to remove your calluses and dry patches. The shavings are collected inside the head and can easily be emptied inside a trash can. Afterwards you attach the finishing pad to polish your feet and make the skin silky smooth.
Get the Flash Player to see this player.
The PediSpin along with the Buffering Pad and 2 Finishing Pads sells for $14.99 plus the cost of shipping and handling. As a special bonus you'll also receive the Heel Booties for free with your order by paying the extra shipping.
Heel Booties is a 20 minute spa treatment for your heels. It is infused with a combination of soothing essential oils that will make your heels smooth and soft to the touch.