Mighty Pro Grill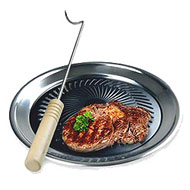 Now you can enjoy the great taste, texture, and flavor of grilled food right in your own home with the Mighty Pro Grill.
The dual-action Mighty Pro Grill comes in just two pieces without any mechanical parts or wires.
It will work with any stove whether it is gas, electric or portable. Plus it works in the oven too.
The heavy duty heating plate of the Mighty Pro Grill is designed to radiate  heat evenly. This allows it to grill food quickly and lock in the flavor.  
The parabolic shape of the grill forces fats and oils to drain away from the food and into the liquid-filled Flavor Ring which captures all the grease and oils.
Only the flavors are steamed back into the foods, without any of the fat. That makes the food both delicious and healthy at the same time.
Plus  there's no smoke or splatter because the fats never gets burned with the Mighty Pro Grill.
Get the Flash Player to see this player.
You can order the Might Pro Grill for just $19.99 plus shipping and handling. It comes with a free food turner and Chef Tony's recipe booklet.