Grill Daddy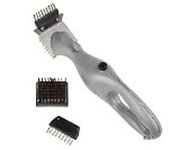 Grill Daddy is the best way to clean your grill. It features a specially designed stainless steel bristles that that can clean in between grill grates and surfaces.
It releases a steam of water as you brush away baked-on food and grease stuck on your grill.
Grill Daddy is extremely easy to use. It preheats, brush, rinse, and sterilizes in order to leave grills spotless and clean.
It is safe to use on steel, iron, and porcelain grills whether hot or cold. This is a great gift idea for any man that likes to grill.
Get the Flash Player to see this player.
Order the Grill Daddy now for $14.99 plus shipping and handling and you'll get free replacement heads and a free beef thermometer.
The Grill Daddy Pro with the free bonuses is also available for just $24.99 plus shipping and handling. It provides more cleaning power.