MyZone Headphones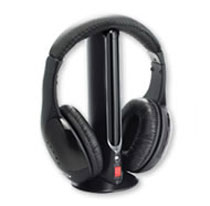 The MyZone Headphones are the wireless headphones that lets you listen to your TV without having to disturbing others.
You'll be able to watch and listen to your shows at the volume you desire. It is perfect for watching TV in bed and not bother your partner from sleeping.
You can watch TV at night without waking up your family or use it in a noisy home where it's heard to hear the TV.
The MyZone Headphones are perfect for hearing movies the way  they were meant to be heard without having to buy a big and expensive sound system
You can install and set up the MyZone Headphones on any TV in just seconds. The wireless design makes it convenient and it can work up to 100 feet away.
The headphones also features a noise canceling technology that lets you hear every word clearly. The cushioned earpieces are cushioned and adjustable for maximum comfort.
Get the Flash Player to see this player.
A single MyZone Headphones normally sells for $19.99 plus shipping and handling. But right there's a buy 1 get 1 free offer available.
You'll recieve an additional MyZone Headphones for free by paying the extra shipping cost for it.