Music Bullet Speaker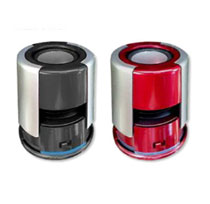 The Music Bullet is a mini, portable speaker which packs big sound. You'll be amazed from the gigantic quality sound and the deep bass you get from such a tiny speaker.
Use it to give your iPod and MP3 players real quality sound or turn your iPad, tablet or laptop into a mini movie theater.  It works with any device that has a headphone jack.
The Music Bullet is small and compact enough to take with your anywhere. It easily fits into any handbag, purse, backpack or gym bag.
Plus you can even expand the Music Bullet by pulling it upwards for even bigger sound and deeper bass. This doubles the output and is perfect when you want to share your music.
The Music Bullet is great to use when you are in your car, at the beach, the office, work, the park, or practically anywhere else. Its compact size makes it easy to take with you anywhere.
When buy expensive dock speak systems for you iPod or other MP3 players when you get similar or better quality sound front he Music Bullet. Plus since it runs on a built in rechargeable battery, you don't need an electrical outlet for it.
Get the Flash Player to see this player.
The Music Bullet is available in either Black or Red and normally sells for $19.99 plus shipping and handling. But currently there's a buy 1 get 1 free offer you can take advantage of.
You'll get a second Music Bullet for free by paying the extra shipping and handling. Choose from either 2 Blacks, 2 Reds, or 1 Black and 1 Red Music Bullet speakers.