Just Air Laptop Cover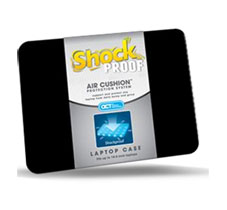 The Just Air Laptop Cover can help support your laptop or iPad from the daily pump and grind.
It a case that is designed to protect your laptop with the use of the patented Air Cushion Technology that is shock proof.
Plus the Just Air Laptop Cover has a strong exterior fabric along with an anti-shock durable inner layer. The edges are also extra cushioned for added security.
With the multiple layers of protection, your laptop, notebook or iPad is safe.  The outer layer is made with shock-absorbing polyurethane memory foam while the inner layer is water resistant, non scratching and  has a dust free lining.
While the Air Cushion Technology features specially designed sleeves with individual, air filled chambers. These chambers support and protect any laptop when inside.
Get the Flash Player to see this player.
The Just Air Laptop Cover is available in 4 different sizes. There's one for 15.5″ laptops, 13″ laptops, 10″ netbooks, and one for iPads. Each comes in either black, gray, or pink.
You can order the 10″, 13″ and iPad Just Air Laptop Covers for $29.95 plus shipping and handling. The 15.5″ model is $39.95 plus shipping and handling.