UGlu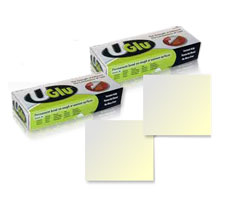 UGlu from Morgan Adhesives Company is the revolutionary new industrial adhesive that has the flexibility of tape.
It is able to create a permanent bond to any surface almost instantly. You just peel and press, there's no mess created.
You can use it on fabrics, wood, plastics, metals, ceramics and much more. It is great for home repairs or crafts.
UGlu is waterproof, safe, and non-toxic. It is great for both men, women and also children. You can use UGlu for kid's projects or for your scrap booking needs.
The special design of UGlu ensures that it sticks to everything except your fingers. Unlike other adhesives UGlu forms a permanent bond but can also be removed easily without any residue or mess left behind.
Get the Flash Player to see this player.
Normally a 75-piece Variety Pack of UGlu along with a bonus Power Patch sells for $10.00 plu the cost of shipping and handling.
But with this current buy 1 get 1 free offer, you'll receive a second 75-piece pack of UGlu and an additional Power Patch for free. You just have to pay the extra shipping for the second set.