Glow Grip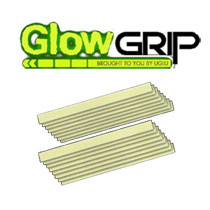 Glow Grip from Ulgu are the glow in the dark super grip traction strips. It can help provide safety inside your home in an instant.
They are one of the brightest glow in the dark products in the world and can help you and family see at night when the lights are off.
You can use Glow Grip in the bathroom, stairs, garage, attic, around the pool, on any stairs, front steps, back steps, or anywhere else you need light.
Using the Glow Grip strips is easy. You just have to peel, press and stick them wherever you want. They bond instantly to almost any surface and can also be removed easily with no residue left behind. The strips are waterproof and does not contain any acid or toxic chemicals.
When it's dark, the Glow Grip strips will automatically illuminate. The light it gives is bright enough that you can read a book next to them. The strips constantly recharges in natural and artificial light to retain their brightness level.
Plus not only does Glow Grip helps illuminate dark places but they are also designed with Super Grip Traction to give you a non-stick surface too. You can see clearly at night and won't have to worry about slipping.
Get the Flash Player to see this player.
The standard Glow Grip Kit comes with 16 Glow Strips and a 51 Piece Home Illumination Kit. It sells for $19.99 plus shipping and handling.
Or get the Glow Grip Deluxe Kit with 16 Glow Strips, the 51 Piece Home Illumination Kit, 10 Silicon Grit Strips and a Roll of Super Glow Tape for just $29.99 and with free shipping and handling.