Forearm Forklift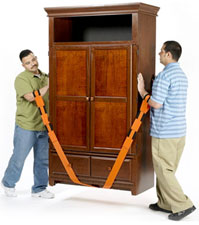 The Forearm Forklift Lifting Straps can help you carry furnishings easier than ever before. It is the winner of the Best New Product of the Year award and has been featured on the Home & Garden network and on the DIY network.
These amazing straps employ leverage in order to make everything you carry feel 50% lighter. Use them to effortlessly move around furniture when you are cleaning, painting, rearranging, or moving.
These Forearm Forklift Lifting Straps are perfect for avoiding damage when moving heavy objects. Hand trucks can beat up stairs  and leave scratches, scuffs and dents. Dollies can scrape your floors and can get stuck . With Forearm Forklift's you can  rise up over door sills, leaving your home undisturbed.
They are ergonomically designed to encourage proper lifting techniques and are adjustable to up to 48 inches. The OSHA has accepted Forearm Forklifts at reducing potential injuries due to heavy and repetitive lifting. 
Get the Flash Player to see this player.
Right now when you order the Forearm Forklift for $19.95 plus shipping and handling, you'll also receive a free 3.5 feet extension, a free 16 piece felt pad multi-pack, and free grip gloves.