Hex Light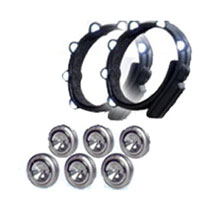 Now you can work hands free while still getting the light you need with the amazing Hex Light, as seen on the PitchMen show.
Normally when you have to hold up a flash light for a job you only have one free hand while the other hand with the flashlight is limited.
However the Hex Light changes that and now tasks that require holding a flashlight are much easier to complete.
The Hex Light is designed so that it comfortably fits around your forearm or wrist. It will cast light to wherever you point. Plus it is also water resistant and is ideal when working in dark, tight spaces.
Another great usage for the Hex Light is helping you see at night and helping you be seen. This includes going out for a jog, riding your bike, or walking your dog at night.
The Hex Light will help you light a path so you can see more clearly while also helping cars that are passing by see you too.
Get the Flash Player to see this player.
A single Hex Light normally costs $19.99 plus shipping and handling. But as part of  the current special offer you'll get an additional Hex Light for free with your order. You just have to pay the extra shipping.
But there's more because you'll also receive a set of 6 Stick N Click lights for free. They let you instantly add a light source anywhere in your home. All you have to do is peel and stick them on. Then simply click it when you want to turn the light on.